2023 PMEA Summer Conference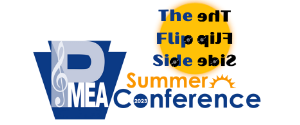 Registration Policies
1. Following the conference, refunds for illness or emergencies will be given upon submission of written request and supporting documentation (physician's statement, emergency information, etc.). Refunds are subject to a $15 processing fee. All refunds must be submitted in writing to the PMEA Executive Office by Tuesday, August 1.
2. A check or credit card information must accompany the conference registration form. We cannot accept purchase orders without payment. PMEA accepts all major credit cards. If your check is returned for non-sufficient funds, you expressly authorize your account to be electronically debited or bank drafted for the amount of the check plus applicable fees.
3. Please call the PMEA Executive Office (610-562-9757 or toll-free 1-888-919-7632) or email kelly@pmea.net if you have any questions concerning conference registration. Office hours are 8 a.m. to 4 p.m., Monday through Friday.
4. Consent to Use of Photographic Images – Registration and attendance at or participation in the 2023 PMEA Summer Conference constitutes an agreement by the registrant to PMEA/NAfME's use and distribution of the registrant's or attendee's image in photographs that may be printed or published online.
5. COVID-19 Acknowledgment - Participants in the 2023 PMEA Summer Conference acknowledge that they fully understand the nature and extent of the risk related to the COVID-19 virus and agree that by participating in this event, they do so at their own risk.